Spectacular Wedding Albums!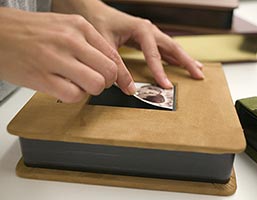 I take great pride in offering each of my couples the absolute best wedding albums anywhere!  Each album starts with the design, your wedding is unique and the story told within the pages of your album should be uniquely yours.   That's why I don't use pre-designed templates or send your album out to be designed by someone using templates.  I personally design each page of your wedding album to ensure the story of your wedding day and the memories made will come-to-life as you view it.
After I complete my design each album is hand-crafted, the leather is hand stretched, the pages are sewn into the binding and the images are then lacquered to ensure your album will last a lifetime.   Our wedding albums are available in a number of styles and sizes including our beautiful and elegant leather covered albums (with 20 colors to choose from) and ultra contemporary albums featuring image wrap covers. If you have any questions or would like to see our albums in person give me a call, 1.209.324.5160 or send an email.  I'd love to meet with you.