Tag archive for : children portraits
Nazreen Dhaul | Modesto Baby Portraits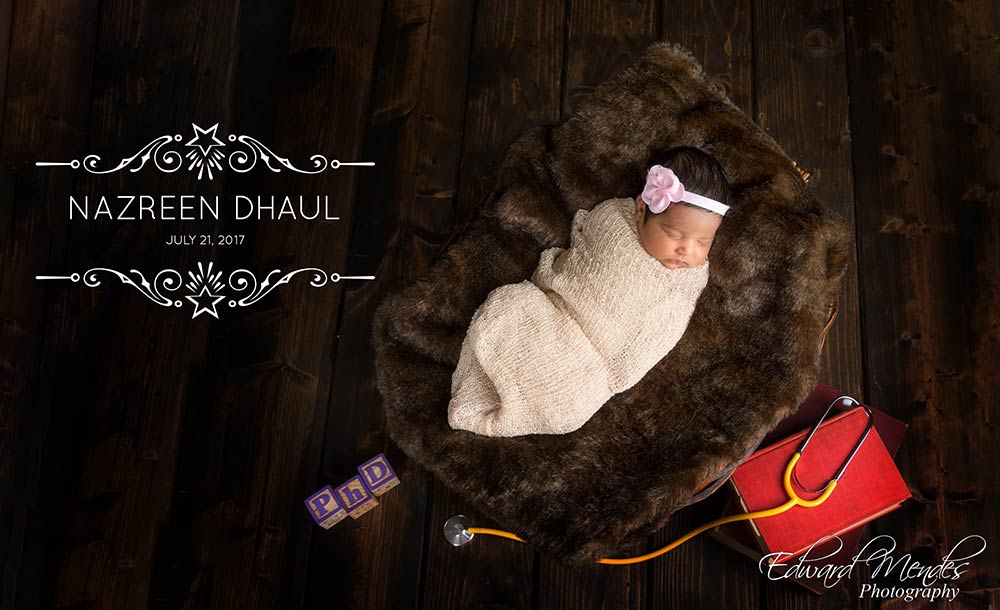 A new little bundle came to the studio a few days ago for her newborn portrait session, the lovely Nazreen Dhaul. Both of Nazreen's parents work in the medical field with her mom having a Ph.D. During our consultation we discussed their "signature" piece of artwork I would design for their home and they mentioned wanting to do something with a medical theme. With Nazreen already born and being two weeks old at the time of the consultation, I worked very quickly to design a warm, and artistic set piece that focused on little Nazreen while celebrating her parent's passion for healthcare. I think it turned out very well.
We were also blessed to have Nazreen's grandmother join us for the portrait session. While she didn't have her image made she worked very hard behind the scenes, making the session a great success.
Nazreen is a beautiful baby girl, very sweet, and I consider myself fortunate to have had the opportunity to create her baby pictures. Below are Nazreen's highlight slideshow and a sample of images from our portrait session. I hope you enjoy them.
Highlight Slideshow
Image Gallery
Are you or someone you know about ready to add a little one to the family and looking for beautiful newborn pictures? If so you've found the right place. Give me a call, 1.209.324.5160 or email me to ask a few questions or book your design consultation. Still, need more convincing? No worries, check out more newborn pictures in our online gallery.

Great photography tells a story. How will Your story be told?
Save
Filled Under : All , Indoor/Studio , Newborn/Baby , Portraits
Cute Baby Portraits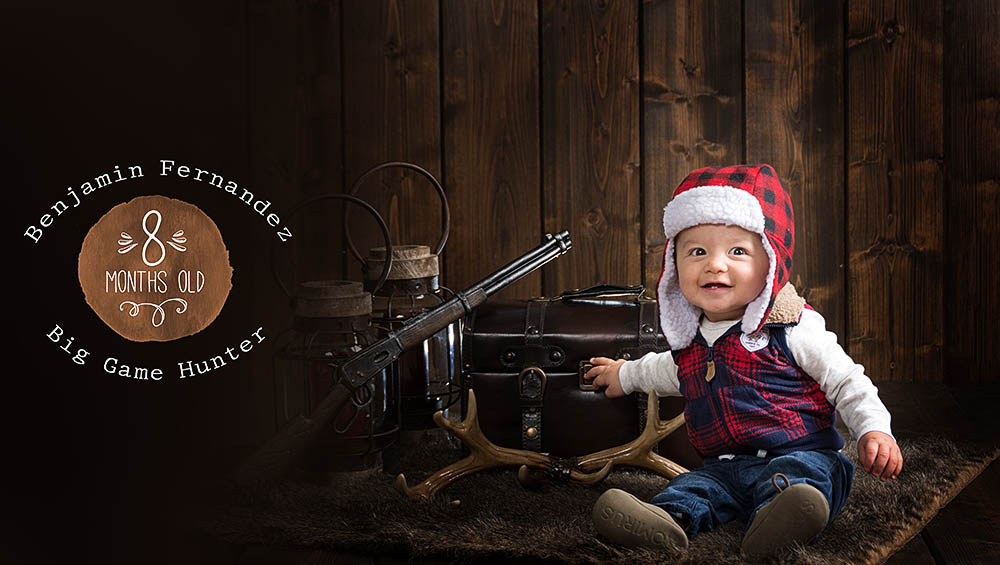 Benjamin is one of the cutest little dudes you'll ever meet, and certainly one of the happiest, a smile was on his face almost the entire session. He had recently turned 8 months and his dad and aunt brought him by for portraits to capture the love and smiles that is Ben. As with all my children and newborn portraits I like to create a signature image that is particularly special to the family in some way and will hang with joy in the home. For Benjamin we decided to do something with a hunting theme, not the easiest theme for a little one, but I knew we could do something cute and age appropriate. Take some hunting lodge decor, a cute lumberjack style outfit, put it all on one of my hand made backgrounds, include an adorable little guy, and here's what I came up with.
Hope you enjoy the slideshow and a few of the images from our cute baby portraits session.

Benjamin Fernandez by Edward Mendes Photography by edwardmendesphotography

Do you have an cute little one that you would like to have beautiful fine art portraits made of? You've found the right place. Give me a call or email anytime, 1.209.541.1815. Need more convincing? No problem, check out our newborn/children gallery.

Great photography tells a story. How will your story be told?
Filled Under : All , Indoor/Studio , Newborn/Baby