Tag archive for : baby photographer
Lily Ann Nelson | Modesto Newborn Pictures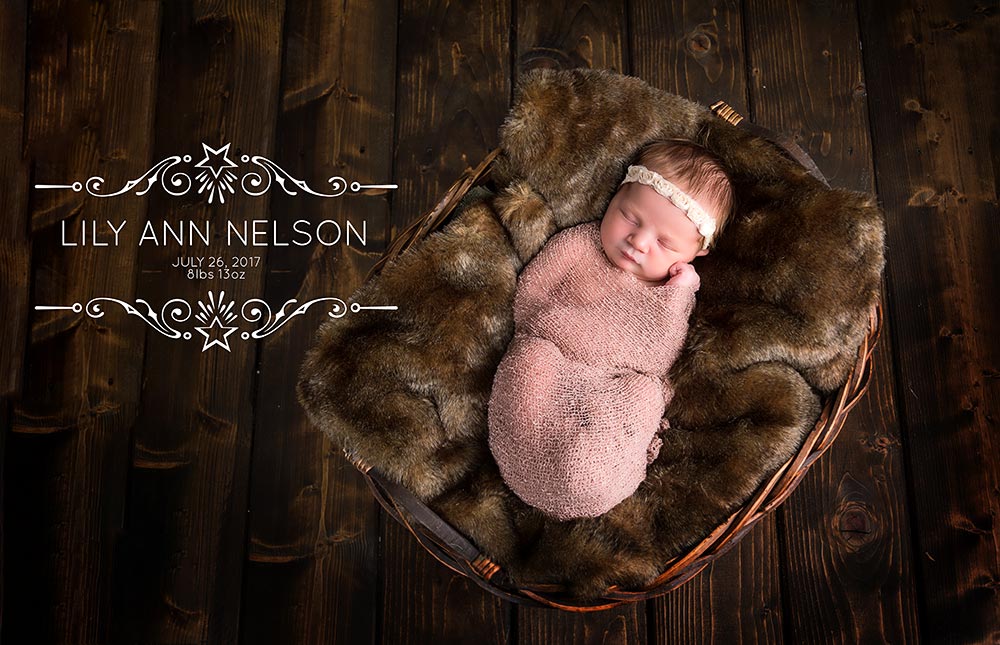 It's one of my great joys to be able to meet the beautiful babies of my past wedding couples when they come to the studio for newborn pictures. I photographed Cody and Ashleigh's big day in May of 2016 at Vintage Gardens in Modesto. I was thrilled when Ashleigh told she was expecting and wanted to come by for newborn pictures when Ms. Lily finally arrived. We'd planned the session and the "signature" image I would create for Cody and Ashleigh about a month before Lily was due so I had time to get everything in order. In the end, Lily was 8 days late but completely worth the wait. She is absolutely beautiful and was a total joy to photograph at only four days old, the perfect age. The session was made even more special because we were joined by both sets of grandparents, Mark and Kim and Dwight and Beth. I love to see the happiness a baby brings to a family and Lily certainly has done just that.
The session was fun and as I mentioned Lily was wonderful. Below is a short highlight slideshow from the session and a few images. I hope you enjoy them and congratulations to the new mom and dad, Ashleigh and Cody.
Some images from the session.
Thank you to…
Tiny Tot Prop Shop for the beautiful knit wrap.
Are you or someone you know about ready to add a little one to the family and looking for beautiful newborn pictures? If so you've found the right place. Give me a call, 1.209.324.5160 or email me to ask a few questions or book your design consultation. Still, need more convincing? No worries, check out more newborn pictures in our online gallery.

Great Photography Tells a Story. How will Your Story be Told?
Save
Save
Save
Save
Filled Under : All , Indoor/Studio , Newborn/Baby
Central Valley Newborn Portraits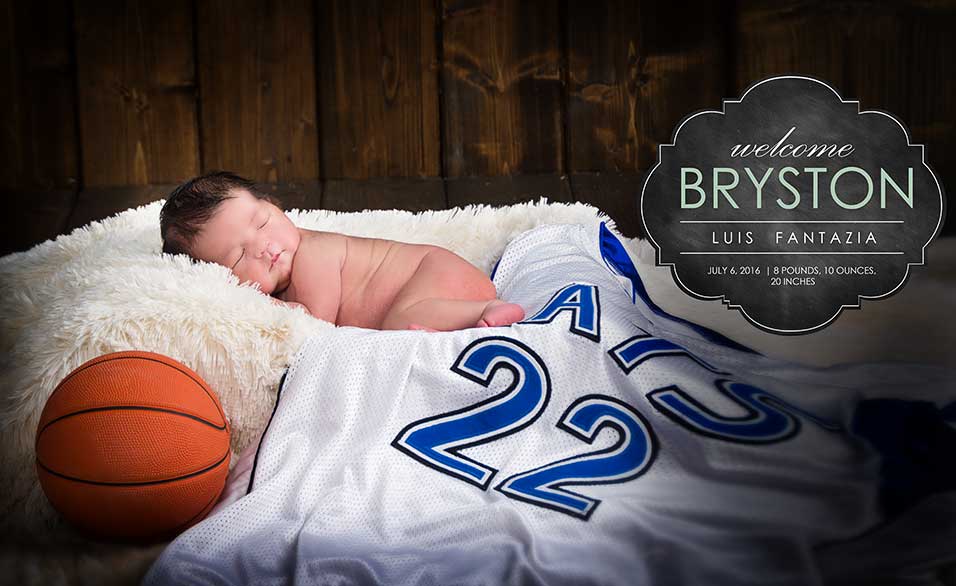 After a bit of a long wait this cute lil' guy, Bryston, finally decided to said "Hello" to the world on July 6th 2016.  A few days later Mom and Dad brought him by the studio for his newborn portraits.  I try to create what I call a "signature" image for all of my newborns; something that is unique to each session and incorporates elements that helps to tell their story as a family. Bryston's dad was an All-American basketball player and  played professionally overseas before coming back home to coach and develop at the youth level. Basketball is a large part of their lives so we decided to incorporate it into their "signature" image.  I think it turned out beautifully and I can't wait to see it displayed in their home.  Leslie and Brice are wonderful and they have a handsome and sweet little dude in Bryston.  I'm honored to have had the opportunity to create his newborn portraits and can't wait to see him grow up.  Here are a few images from the session.
Do you or someone you know have a little one on the way and looking for a central valley newborn photographer?  You've come to the right place.  Give me a call, 1.209.541.1815 or email, I'd love to speak with you.  Would you like to see more central valley newborn portraits? Visit my gallery.

How will your story be told?
Filled Under : All , Indoor / Studio , Newborn/Baby , Summer