Kody and Cameron | State Theater Engagement Portraits
State Theater Engagement Portraits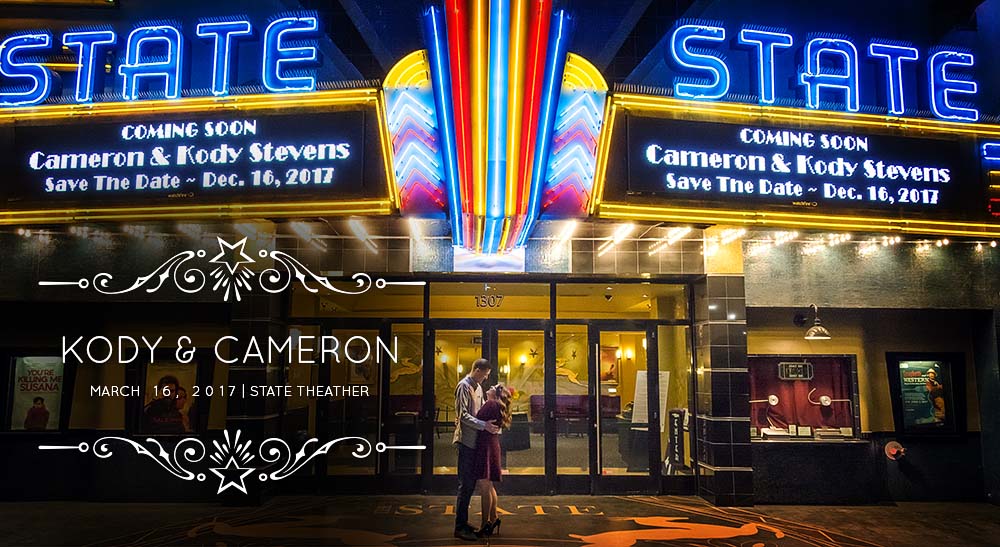 Cameron asked Kody to marry him outside the historic State theater in Modesto, California last December after a seasonal showing of "It's a Wonderful Life".  Their wonderful engagement story created a special place in their hearts for the theater and sets the scene for their engagement portraits. The State Theater was kind enough to put Kody and Cameron's name in lights for our state theater engagement portraits session, which made the night extra special. The session was fun, minus me almost getting hit by a car or two while standing in the street to make the images. Congratulations to the happy couple and I can't wait for their wedding in December.
Here are a few images from the session, hope you enjoy.
Are you or someone you know getting married or looking for a photographer for a special occasion? You've found the right place. Give me a call anytime, 1.209.541.1815 or email to ask a few questions or schedule a consultation to come by and meet. Still need more convincing? No problem. Check out our wedding gallery.

Great photography tells a story. How will your story be told?
Filled Under : All , Engagement , Modesto , Spring , State Theater