Tips for Great Senior Portraits
Tips for Great Senior Portraits
Download our 2018 Senior Portrait Guide.
Our Senior Portrait Guide is a great way to check out what Edward Mendes Photography is all about.  It includes helpful information about clothing, hair, makeup plus much more!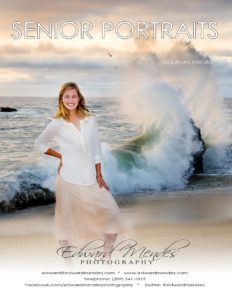 A Few Hints and Tips for Great Senior Portraits.

Get a good night's rest the day before the session. This will keep your energy level up for the session and help you look your best.
Don't schedule any other major events the day of your session. This will ensure that you don't run into a scheduling conflict causing you to have to rush. We're more than happy to re-schedule sessions if we need to but we can't guarantee another time will be available for a while.
Bring a number of outfits and change up the colors and style, that way we have plenty of options to work with.  This will also add variety to your session.
Don't forget uniforms, letterman jackets, pets, cars, motorcycles, bikes, snowboard, skateboards or another prop you'd like to use in the session. Being able to use these during the session really helps to bring your personality out in the pictures.
We'll discuss a ton more during the consultation.
 Frequently Asked Questions
It's not going to take you long to discover that I do things differently than everyone else, from the consultation to the cookies and personal attention everything is designed to give you an awesome senior portrait experience.

Have any additional questions?  Give me a call, 209.541.1815 or email me anytime.